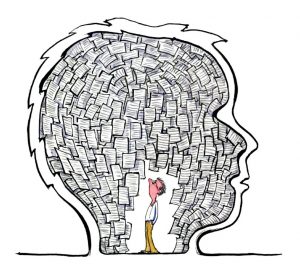 If you are learning a new language, it is essential to new words each day. Gaining a powerful vocabulary will guarantee that you will be able to express yourself effectively and sophisticatedly. Designating a "word of the day" for yourself will also ensure that you understand grammar to a greater extent and the lengths to which the language you are studying is developed. In this article, I will be discussing websites that are great for learning new English words. Each website has its benefits and disadvantages, so it is better to use several websites at a time to gain the most out of your learning process. Many of these websites have a word of the day app that you can download on your smartphone or tablet for easy usage. It is best to be connected to new words in any way you can!
1. A.Word.A.Day (AWAD)
You can see the word of the day, and yesterday's word of the day, on the website or through an email subscription. The website is strikingly simple, but highly useful. It provides the pronunciation, meaning, etymology, and usage of the selected word. Below the entry, the owner, Anu Garg, also presents a thought of the day. The New York Times commented that this website is "The most welcomed, most enduring piece of daily mass e-mail in cyberspace." In fact, it has over a million subscribers from over 170 countries.
2. Merriam-Webster's Word of the Day
One of the most respected dictionaries in the world, Merriam-Webster has a sophisticated layout for its word-of-the-day page. It provides a definition (with sound of the word spoken included), a "Did you know" section, examples of its usage, a "Name that synonym" section, podcasts, and a word of the day calendar at the bottom. Those who are truly interested in words and their histories, this dictionary will be a treat. Its "Did you know" section is expansive, and allows readers to understand the nuances of each selected word. On the left of the presentation is an easy way to share the word of the day through Facebook, Twitter, and Google Plus. You can even get the word of the day emailed to you through a subscription. It even has a section for learners called a learner's dictionary. This dictionary also has a word-of-the-day category.
3. Wordnik
This website is all about words, with a word community, word of the day, and random word pages. On its word-of-the-day page, it has concise definitions of words with ample example sentences with the chosen word being used, extra notes on nuances, and also stats on its usage and even its Scrabble score. The fantastic thing about this page is that each word is accompanied with real examples from literature, not just sentences made up on the spot that sound unnatural. So, not only will you learn a new word each day, but also become knowledgeable in literature through this website. It also has an easy-to-access archive, and a convenient way of sharing words via social media.
4. Duolingo
This is perhaps the best language learning app and website out there. In turn, it is a great tool for learning new words. You can compete with your friends and family through the app, so you can gain that motivation needed to learn new words. It has a simple but pleasant layout, with many different exercises for learning: speaking, listening, writing, multiple choice questions, matching word exercises, and more. You can either strengthen what you already know, or venture into the world of new words each day. Duolingo focuses on obtaining a streak, so you know how many days in a row you have been learning a certain language (in our case, it is most likely English). There are many other language learning apps on the market, but it seems Duolingo takes the cake in terms of efficiency, user-friendliness, and motivation. It even has a cute owl mascot that cheers you on as you go through the exercises. I think that most people use the app rather than the website; however, both can be useful. It is important to download the necessary keyboards for the languages you are learning, though.
5. Dictionary.com's Word of the Day
This is another popular option for learning new words easily. It shows the definitions in the form of a meme or picture you can conveniently share on social media (including showing the pronunciation and what kind of word it is). Below the definitions are citations of the word of the day's usage from literature. Lastly, there is a section that discusses the origin of the word. You can sign up for an email subscription to the page, and seeing the visual archive of the word of the day for the previous day is just a scroll away.
6. Oxford Dictionary's Word of the Day
Maybe the most trusted dictionary in the world, the Oxford Dictionary website also has a webpage that features a word of the day. For each entry, you have an audio pronunciation guide, a definition, the word's origin, and an easy-to-share picture of the word with a pronunciation guide across social media. I like that the Oxford Dictionary focuses on archaic usages of words as well, as for wordaholics, these archaic definitions can be useful to know and interesting to understand. Like most sites of this nature, it also has an email subscription option. Another section of this website to check out if you have time is "Explore the English Language," which has wordlists and word origin features.
7. New York Times' Word of the Day
A standard in the news industry, it is also a fantastic tool for learning. The New York Times presents a word of the day daily, attached with a quiz. What is also useful is that it shows words in context of The New York Times itself. So, they will show how the word was used in news articles from the Times. Each entry has sections for definitions, examples of its usage in news articles, and a quiz at the bottom. After you finish the quiz, you will see a more detailed look into the chosen word, discussing its nuances. A great tool for learning more words, and more about them.
8. WordReference.com's Word of the Day
The special thing about this website is that it offers two categories: basic word of the day, and intermediate word of the day. The basic word of the day is aimed at beginners and the intermediate word of the day is focused on people who have been learning English for some time. Though each category has entries that are filled with detail, there is a clear difference between basic and intermediate entries. In the basic section, entries have sections dedicated definitions, common uses, usage within pop culture, and a button that reads "see full definition," which leads a user to an elaborated entry. For the intermediate entries, there are sections devoted to expanded definitions, example sentences, words most often used with the chosen entry, usage within pop culture, "did you know," origins, and once again a "see full definition" button. This seems like the most comprehensive website for learning words and their background stories, so to say. You can get these definitions sent to you by email, and can also share them easily via Facebook and Twitter. You can scroll through entries as if you were on a common blogging site.
9. Vocabulary.com
This website tries its best to make learning new words enjoyable. It has word games to play, you can look up words, and it has word lists. They say if you start playing with language, you will learn it quickly. This website seems to take this approach. When learning is fun and flexible, words will be retained at a better rate. A great thing about its quizzes is that when you answer a question, it will describe the word in detail. The search option has examples sentences written by humans, not computers (it happens often it seems), examples sentences that are in touch with the real world of how English is being used, and claims to be the fastest-working dictionary. Its layout is user-friendly and intuitive. In the lists section, there are myriad lists focused on different subjects, ranging from baseball to movies. It is a highly enjoyable and engaging website for learning new words, and for studying English in general.
10. Word of the Day! App
For people who are crazy about checking other dictionaries for varying definitions, this is the app for them. This app features the following sources:
Merriam-Webster
Dictionary.com
Oxford English Dictionary
The Free Dictionary
The Learning Network
WordSpy
Latin Word of the Day
MedTerms
Yahoo! Education
You can conveniently compare definitions, and discover the nuances of words you want to delve into. In addition, you can "star" and "favorite" certain definitions and words. These starred and favorited words can be shared with friends, and the app will also alert you when new words have been entered into its system. It's a free app, so it is a catch for those who don't want to spend to learn. The entries for the words have audio recordings of pronunciation, root meanings, examples sentences, and connotations of chosen words.