Find yourself being a bit of a grammar-freak? Like to correct mistakes? Then it is high time you make a freelance proofreading career. This kind of job is suitable for people who:
have extensive knowledge of English grammar, punctuation and style, and are good at pinpointing errors;

are attentive to details and can analyze large amounts of data; and

want to help others and get paid for doing it.
What Does Editing Work Entail?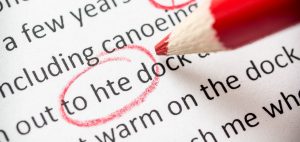 Each text has certain requirements, and the proofreader's job is to find and correct all orthographic, punctuation, grammatical and stylistic errors in connection with these requirements. However, when looking for freelance proofreader offers, make sure you understand what kind of results the company expects. Working as a freelance proofreader gives you the opportunity to choose the most convenient working conditions. You can work from home or an office, or even a café, whatever place makes it easier for you to concentrate.
 You Have Got to Try Working Freelance!
Freelance work as an proofreader may just be the most comfortable type of employment imaginable. Companies can offer you different kinds of workload, and more often than not you would work for more than one employer or on several projects all at once. If freelance is on your ideal job wish-list, pay attention to the working conditions you are offered.
Beware! There are a lot of fake employers who will disappear after you have sent a completed order. Check each company's credibility before you contact it, and be careful.